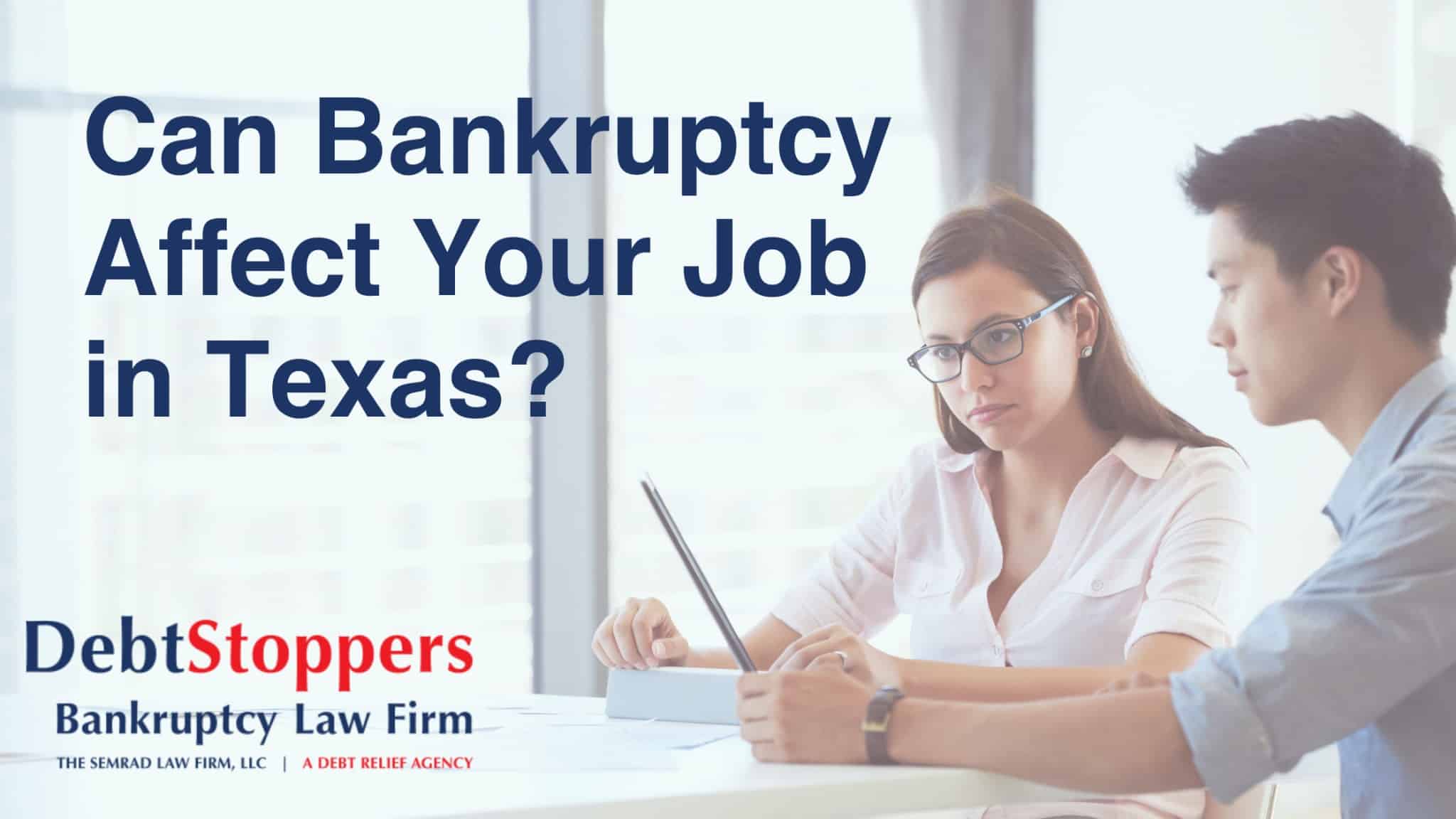 Can Bankruptcy Affect Your Job in Texas?
People who are considering bankruptcy often feel embarrassed, scared, and worried. This alone can make the process incredibly difficult. But on top of that, you might be worried that the bankruptcy process will affect your job.
Fortunately, you don't have to file for bankruptcy alone. The experienced bankruptcy attorneys at DebtStoppers can address your concerns and explain the steps you can take to protect yourself. Having a caring bankruptcy lawyer on your side can help alleviate your stress and ensure that you are on the right path.
Can You Be Fired for Filing Bankruptcy?
In most situations, personal bankruptcy can't affect your current employment in any way. Your job is protected by bankruptcy laws that prohibit employment discrimination. This is true whether you work for a private or government employer.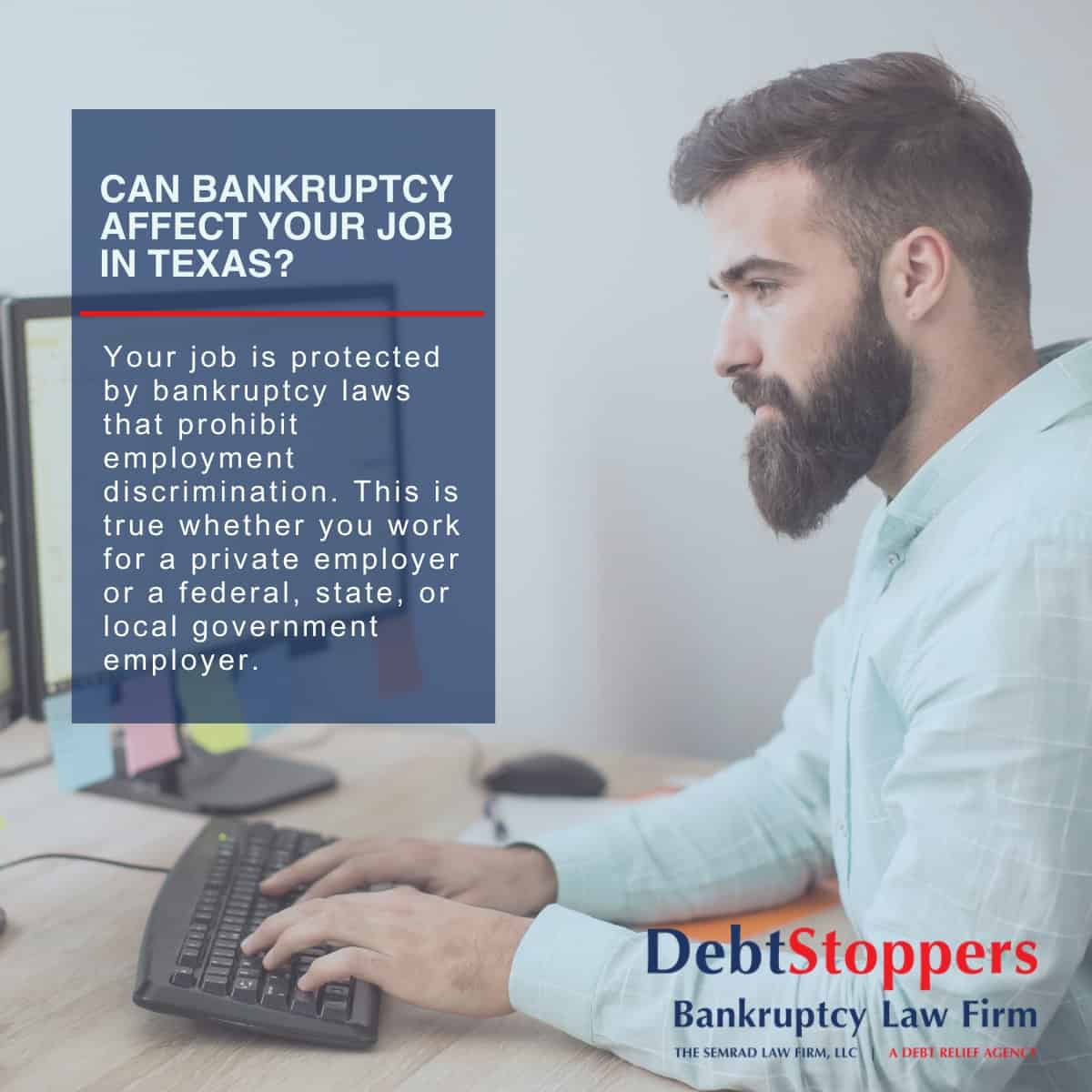 You are not required to inform your employer about bankruptcy filings, and in most cases, your employer will never find out. However, if your wages are currently being garnished, your employer will likely receive communications from the court when you file.
If your employer does find out that you filed, they are not permitted to fire you because of it. Even if your responsibilities include handling people's money or something else finance-related, you are still protected. It is also illegal under the Bankruptcy Code for employers to reduce your salary, demote you, or take away responsibilities.
Being Fired For "Other Reasons"
While private and government employers are prohibited from firing you or taking other adverse employment actions against you because of your bankruptcy status, it's important to remember that you can still be fired for other reasons. If your employer wants to dismiss you from your job, they may attempt to use other reasons as an excuse or "pretext" to fire you. This is not lawful, but it still happens.
Pretextual termination can sometimes be hard to prove, but it's not impossible. If you believe you were fired due to your bankruptcy status, an experienced attorney can help.
Will Bankruptcy Impact Your Future Job Prospects?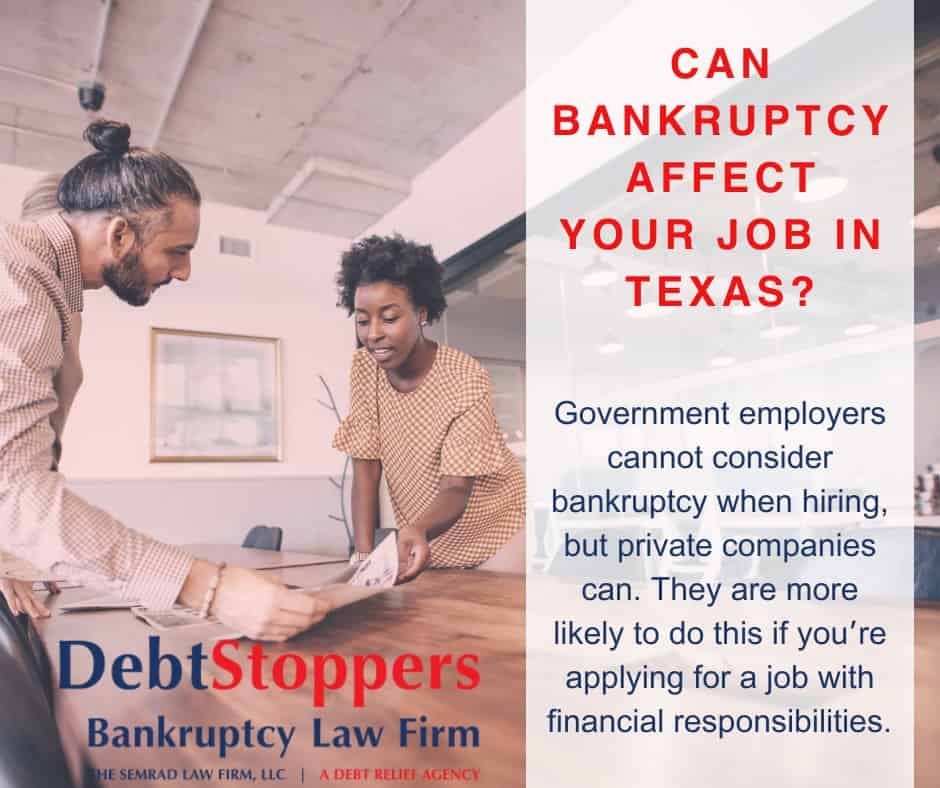 While you are protected from being fired based on your bankruptcy status, it can have an effect on future employment. Government employers cannot consider bankruptcy when hiring, but private companies can. They are more likely to do this if you're applying for a job with financial responsibilities.
While you aren't required to disclose your bankruptcy status to a potential employer, many of them run credit checks and will come across your bankruptcy filing.
Keep in mind that all employers must obtain written permission from you before pulling a credit report.
Still Concerned? Contact the Bankruptcy Attorneys at DebtStoppers
Filing for bankruptcy is stressful. While it can be challenging to discuss your financial situation, don't let it stop you from getting the help you need.
Remember: if you are already employed, your job should be safe. If you are experiencing bankruptcy discrimination or have any questions or concerns about filing for bankruptcy, DebtStoppers is here to help. Contact us today to schedule a free consultation with an experienced bankruptcy law firm and receive the help you deserve.