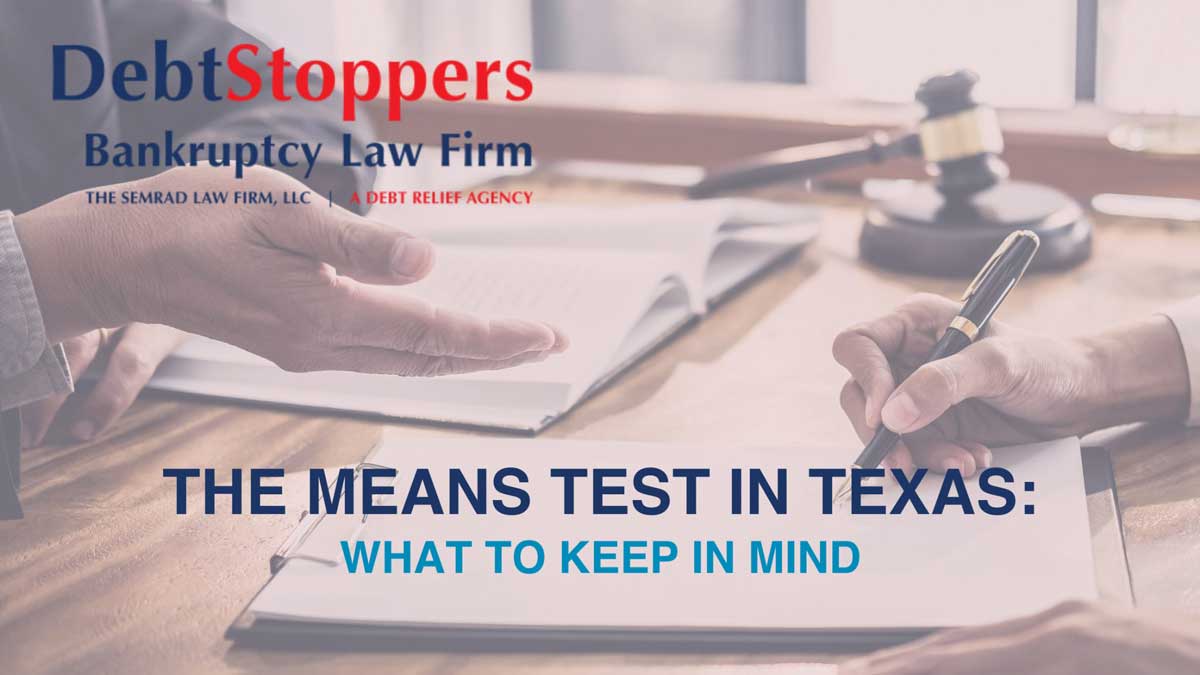 The Means Test in Texas: What To Keep in Mind
If you find yourself in financial trouble, you might find that bankruptcy is the best option to help you get back on your feet.
In Texas, there are two common types of bankruptcy that an individual can file for: Chapters 7 and 13. Many people aren't aware that they must meet certain requirements for a 7 filing. To qualify for a Chapter 7 in Texas, you must pass what is known as "the Means Test."
What Do You Need to Know about the Means Test in Texas?
Before you can file for Chapter 7, you must determine your eligibility by satisfying the means test. According to Texas law, if your income is below the median for your area and household size, you automatically qualify.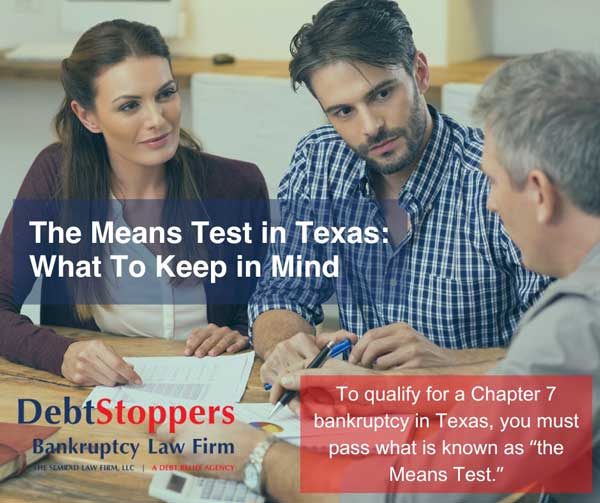 If you make more than the median, you must proceed with the means test, which calculates your monthly earnings, expenses and debts. The most important aspect of this step is to provide information about your expenses so you can see what funds are left over once those are deducted.
Some of these calculations can be quite confusing, so it's important to follow the directions and consult with a professional.
Once you determine your income after all your expenses are considered, you will be able to complete the means test and determine if you qualify.
Income Requirements
If your income is below the median for your household size in Texas, you can proceed with the filing. The limits for cases filed in 2022 in Texas are as follows:
1-person household: $55,441.00 annually
2-person household: $74,636,00 annually
3-person household: $80,733.00 annually
4-person household: $93,386.00 annually
The second way to pass is to calculate all of your expenses and then determine if your disposable income, which is the amount of money you have left each month after paying your expenses, is below the limit. If it is, you are eligible to file.
Necessary Documents
The first step is to fill out Form 122A-1, which is a statement of your current income. Your earnings will affect whether you qualify to file for Chapter 7. Everyone in the state of Texas who files must fill out this form.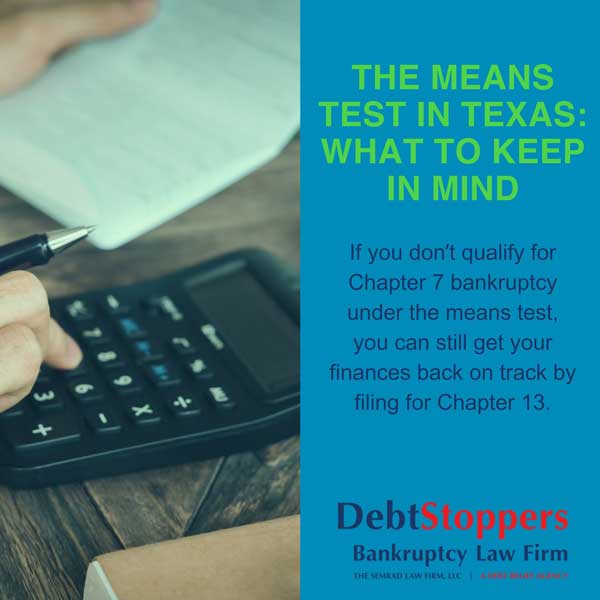 If your earn more than the median, you must also complete Form 122A-2, which is the actual means test. On this form, you will provide information about your pay and assets, your deductions and exemptions, and your expenses to determine if you're eligible.
What Happens If You Fail?
If you don't qualify for Chapter 7 bankruptcy under the Means Test, you can still get your finances back on track by filing for Chapter 13. This will allow you to reorganize your debts and come up with a repayment plan that you can afford.
This plan is typically in place for 3 to 5 years, at which point, the remaining debt in the repayment plan is discharged as long as you've met all of the requirements set forth by the bankruptcy court.
If you are considering bankruptcy or have any questions about eligibility and the means test, contact DebtStoppers today and request your free consultation with an experienced bankruptcy lawyer.