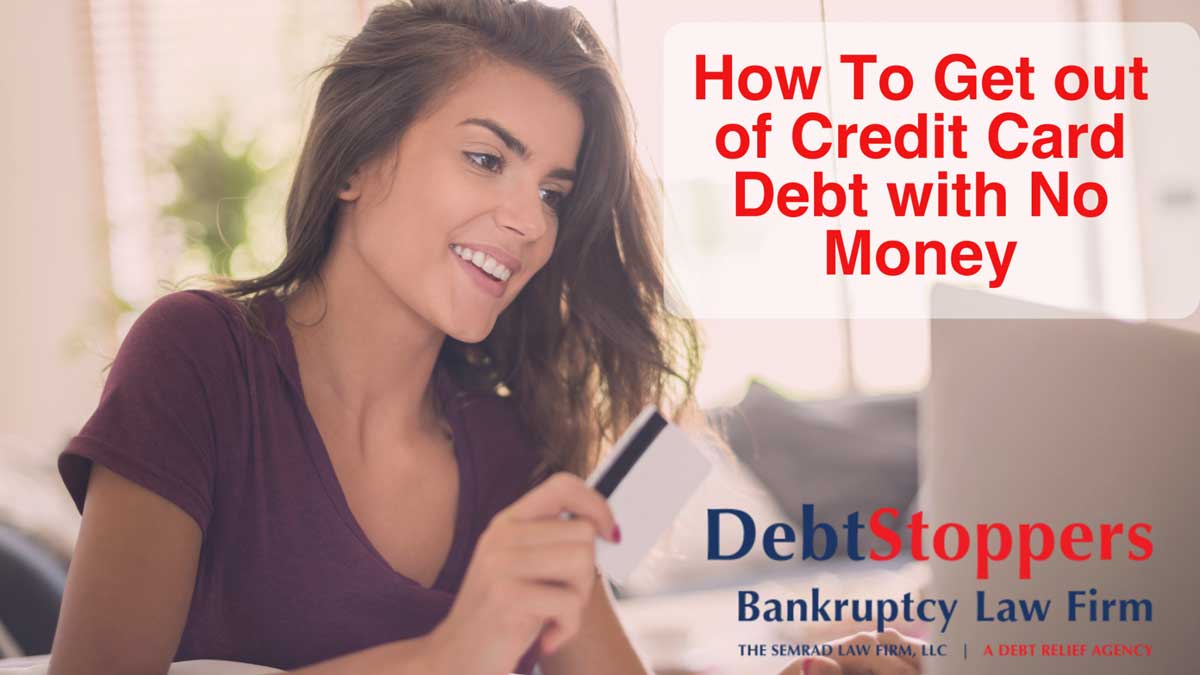 How to Pay Off Credit Card Debt with No Money
Credit card debts can be a burden for many Americans. If you're struggling to make ends meet, you may feel like you have nowhere to turn. But there are options available, even if you don't have any money to start with
One option is to have a lawyer help you file for bankruptcy. This may seem like a drastic measure, but it can actually be a very effective way to get out of credit card debts, especially if you have no money. When you file for bankruptcy, your debts will be discharged, which means you will no longer be responsible for repaying them.
In addition, your creditors will no longer be able to contact you or take any legal action against you. This can give you the breathing room you need to get your finances back on track. In most cases, your lawyer can assist with protecting your assets from creditors, and you may even be able to keep your home and your car.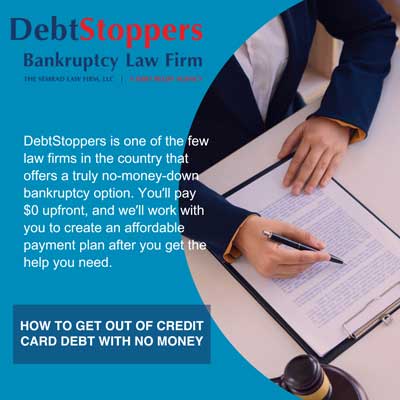 No Money Down Bankruptcy ($0 Up-Front)
DebtStoppers is one of the few law firms in the country that offers a truly no-money-down Chapter 7 bankruptcy option. You'll pay $0 upfront, and your lawyer will work with you to create an affordable payment plan after you get the help you need.
And unlike other law firms that advertise "no money down" or "budget file for bankruptcy" options, DebtStoppers will cover the filing fee to ensure you can access credit card debt relief and financial freedom, even if you can't afford to pay anything upfront.
How To File for Chapter 7 Bankruptcy
Filing for bankruptcy can be a complex and daunting process, but it doesn't have to be. If you're considering filing for Chapter 7 bankruptcy, here's a checklist of what you (or your lawyer) will need to do:
Get credit counseling from an approved provider. This is a mandatory step in the bankruptcy process, and you must complete it before you apply.
Complete the means test.This test will determine whether you qualify for Chapter 7 bankruptcy based on your income and expenses. Your lawyer will help you complete this step.
Gather all the required documents. This includes your two most recent tax returns, six months of pay stubs and bank statements, and a current credit report.
File the bankruptcy petition and required forms with the court. Once everything is submitted, your creditors will be notified and an automatic stay will go into effect, stopping collection actions against you.
Attend the meeting of creditors.This is a mandatory meeting where your case trustee and your creditors can ask you questions about your bankruptcy case. Your lawyer can attend with you.
Complete your financial management course. You'll need to take this course in order to have your debts discharged. Your lawyer can assist you in finding the right course.
Unsecured Debt and Debt Relief Options
When dealing with credit cards and other unsecured debts, there are many options for reducing your balances. For instance, some people will try to work with a debt settlement company or negotiate with their creditors directly. However, they are not required to work with you, and often you'll end up in a worse position than you were before.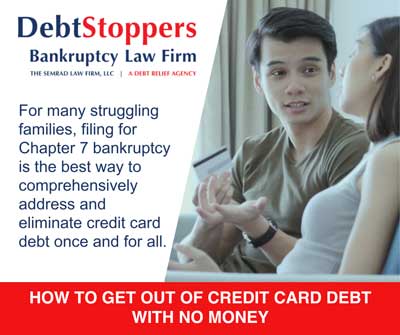 Others try a debt consolidation loan or a balance transfer credit card. These options might lower your interest rates and monthly payments, but you are still left with a monthly payment. And if you can't afford your card payments, you probably won't be able to afford these payments either.
The truth is that, for many struggling families, filing for Chapter 7 bankruptcy is the best way to comprehensively address and eliminate credit card debt once and for all. A DebtStoppers lawyer can ensure that you get the relief you need.
How To Use Credit Cards Responsibly
Credit cards can be a great tool for managing expenses. However, they can also lead to substantial debts if they're not used responsibly. Here are a few tips for using credit cards responsibly:
Don't charge more than you can afford to pay off each month. This will help you avoid high-interest charges and keep your balance manageable.
Try to pay more than the minimum payment each month. This will help you avoid skyrocketing balances.
If you're struggling to make payments, try to cut expenses in other areas of your budget to free up some cash.
Keep an eye on your credit score and check for errors regularly. This will help you identify any potential problems early on so you can take steps to fix them.
Following these debt management suggestions will help you spend responsibly.
Credit Card Debt Relief with No Money
Are you struggling with credit card debt? If so, you're not alone. This type of debt is a major problem for many Americans, and it can be difficult to find a way out. But there is hope: even if you have no money.
DebtStoppers offers a unique solution that allows you to address your debt without any upfront costs. Filing for Chapter 7 bankruptcy with the assistance of a knowledgeable lawyer allows you to eliminate your debts without having to pay a penny upfront. And because we offer a $0-down option, you don't have to worry about coming up with the money to file for bankruptcy.
So if you're looking for credit card debt relief with no money down, contact DebtStoppers today for a free consultation with an experienced lawyer near you. We can help you get out of debt and back on track financially.